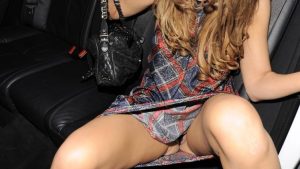 (Our Ange arriving at the House of Commons for another busy night on the Floor, allegedly! – Day Admin)
Granny Rayner/Sharon Stone.
Yes! At P.M. Question Time, just to put Boris off (apparently)
It was however, like the film, just an open and shut case! But on this occasion, a misunderstanding mixed with some misogynistic tripe, by all accounts.
Well unlike Catherine (the name used in the film) I just hope Flangey was wearing something between her legs, because if she wasn't, and Queer Charmer had been on the receiving end, he would have recoiled with embarrassment, and confusion, at the sight of that thing resembling a carpenters tool bag, knowing full well he has recently lost track of what a real woman is, or even looks like, deep down, if that really is a good example anyway.
The Basic Instinct star incidentally is 23 years older and looks fitter. So I know which one out of the two I would prefer to drag into a shop doorway.
Nominated by: Lord Scunthorpe