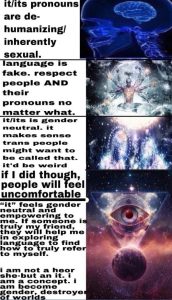 A university professor in the colonies has just successfully sued his employer for 400 grand. All because of some uppity little cunt who demanded to be addressed by correct gender pronouns or as a bird (born a bloke).
The professor innocently answered a question with, "Yes Sir," to which the 18 year old student took offence. After the lecture, he confronted the professor and said he was a tranny and needs to be addressed as a woman. He then got huffy and flouncy and demanded to be called by his 'correct' gender pronouns (the usual 'they them' shite I think).
The professor, quite rightly, refused and the little shit then pretty much said he'd have him fired. He filed a complaint and the soft as shit yooni gave the prof a written warning with a clear intention to get rid of him if it happened again (which it would as soon as the uppity cunt got in his face the next day I bet).
Well, good for the colonies because the prof won damages due to his first amendment rights being violated.
A matter of time until it happens here and when it does, the prof will have no chance due to our lack of such protection. These cunts can probably have your job if you don't let them control the sounds coming out of your face.
Imagine some bloke getting in your face and saying "Call me Miss, right now or I'll have you fired."
I'd knock the cunt out. And I'd be the bad guy forever.
I did want to cunt the student, but his (yes, his) name has never been released. They had no problem releasing the professor's name though, therefore throwing the prof to the uppity widow twanky/antifa loonies.
Fuck off.
Nominated by: Cuntybollocks