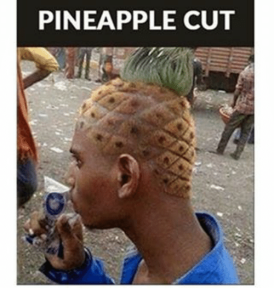 Cunts who buy Pineapples.
I don't mind a little bit of pineapple in tinned fruit cocktail but some Cunts apparently eat it with gammon…how fucking revolting, an egg is the only thing that goes with gammon certainly not fruit…nobody would have beef and strawberry or chicken and raspberry, so why the fuck have gammon and pineapple?…
As for the drug addict/ Council Estate types who spend their benefits on a "pizza "with pineapple..well,nthey should be sterilised and confined to their dreadful bedsits before being gassed by Rentokill.
Anyone who buys a whole pineapple is probably a rampaging Gay who stuffs it up his arse before getting in his pink hairdresser's jeep and driving too quickly repeatedly over speed-bumps while listening to the music of The Communards.
Nominated by: Dick Foxchaser-Fiddler
(Clearly you're suffering from PTSD – Pineapple Traumatic Stress Disorder – Day Admin)