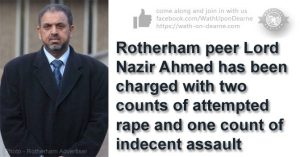 Lord Ahmed ( Lord my arse, kid dy fiddle ing scum ). Some time ago I alluded that this Cunt was involved in the P. Aki grooming s scandal in Rotherham.
Well according to the link he is now officially a kid sex offender. Labour peer of the realm, makes me sick Cunt.
Pander to evil and it will take you over. He's liebour are cunts the political establishment are cunts South Yorkshire police are useless cunts. Boy I could go on and on.
Ahmed you are a fucking CUNT
Nominated by: Everyonesacunt
and supported by John morlar
"Ex Lord" Ahmed has been found guilty of historical kiddy fiddling from the 70's.
Ann Cryer labour MP for Kiethly for many years raised the issue of par ki's abusing white children with drugs and sexual exploitation, she was ignored by all the labour/ Tory twats on power, mustn't upset the ethnics. Wacist…!
She was in fact told to shut the fuck up…The scale of this ethnic rape-abuse of white British children by sex starved Asians has never and will never be properly investigated.
There will be a token gesture with a few of them going to clink and that will be the end of it.. GB is now well and truly FUCKED. I hope the liberal lefty twats can keep their offspring safe, one day the ethnics will come for THEM….☠️