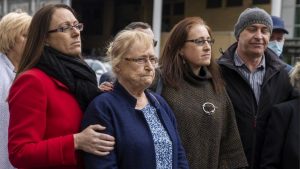 I would like to nominate the family of Joe McCann following the collapse of the trial of 70 year old ex paratroopers who were accused of murdering said turd 49 years ago.
Summoned by the police to help arrest Joe ,up to three Paras helped him shuffle off this mortal coil whilst he was seeking to avoid being captured.
Implicated in the deaths of no fewer than 15 soldiers, his family are now bleating about 'state sponsored murder ' and all that guff. The truth is 'Don't fuck with the Parachute Regiment.
Nice to see the only MP with balls attending the trial and speaking up in support of the lads today.
PS, An interesting legal question. Mr A and Mr C were acquitted of murder yet the family of McCann claimed outside of the court that he was murdered. Are Mr A and Mr C in a position to sue the family for libel?
https://www.bbc.co.uk/news/uk-northern-ireland-56942056
Nominated by: Guzziguy 
…and on a siimlar note, this from Cuntstable Cuntbubble
Another legal connundrum.
Why are pensioner ex squaddies who risked their lives fighting murderous scum in NI being pursued for alleged crimes when 2 alleged IRA killers of both civilians and soldiers serve in the NI assembly? McGuiness now happily deceased but the other cunt gets a huge salary, expenses and pension when he should be facing justice.
A lack of consistency surely? Which seems to have something to do with the Peace Process.
But never mind. Lawyers doing very well out of it.