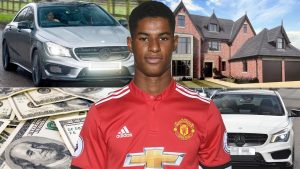 Marcus Rashford.
Who? I hear me say. Apparently some 20 year old Dark Key footballerist who makes millions of quid by kicking around an inflated sheep's bladder. However, he's really really disappointed that HM government have decided not to throw more cash at the feckless underclass in order that they may feed their ill begotten offspring and is being lauded as some kind of hero by the usual suspects, in the same way that that jug eared, shat himself, crisp vendor opined over the same issue.
So, after 20 odd years on this planet he is clearly more knowledgable on economics, politics, the meaning of life etc than the sum total of Human knowledge hitherto known. If you're that concerned then why don't you and jug ears throw buckets load of the cash that you've acquired under false pretences and nip down to Tesco and alleviate the problem single handedly?
I may even be impressed. In the mean time fuck off back to your rubber tyre and start training for whatever it is you do. BLM? Not this one. Fuck the fuck off.
Cunt.
Nominated by: Kunte Kunty