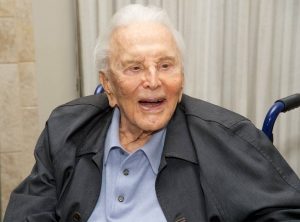 Congratulations to Bob Grapples who correctly predicted Hollywood legend Kirk Douglas would be next to snuff it aged 103.Kirk survived a place crash in 1991 and a near fatal stroke in 1996 but still made it well past 100.Good innings indeed.
Anyway on to Deadpool 156
The rules.
1)Pick 5 cunts who you think will be next to conk out.First come first serve.No duplicates.You can always be a cunt and steal other peoples nominations from other pools (Like Black and White Cunt frequently does!)
2) Anyone who nominates the World's oldest man or woman is a cunt who will be ignored.
3)It must be a newsworthy cunt we have all heard of.
My mom's (Shaun)
Rush Limbaugh
Genesis P-Orridge
Leon Spinks
Shaun Weiss
Gianluca Vialli