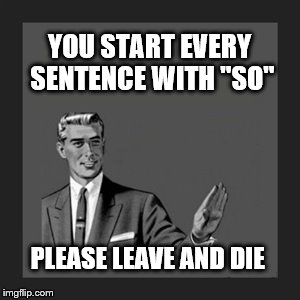 Answering every question starting with 'So'….
It's taken a while, but fuck a rubber duck, this trend, if you can call it that, is really getting on my tits now.
There was a time when beginning a sentence with the word 'so' was appropriate, such as asking certain questions e.g. "So what's all this about then?" and "So when are we going to go?", but now everyone from little runt school kids to university professor's are using 'so' as the default start to most replies. Sooo irritating, and if it's irritating then it's cuntish, just like this shitty spelling checker that changes cunt to count, the useless cunt (sorry going off piste a bit there, ISACers)
After a little research on the net, it seems that this misuse of the little conjunction was the favourite of geek programmers and techies, then it went viral when Mr Million dollars-an-hour and master life manipulator "Cuntbook" CEO Mark Fuckerberg was starting every reply with 'So' in interviews. The guy makes me sick. He has so much fucking clout, the expressionless faced cunt. Looks like a character from Star Trek; I just wish someone would beam him up.
Now I don't pretend to be word perfect, but the feeling I get when everyone and his wife now uses this sentence initial when being questioned is that they are trying to avoid answering properly, because they either don't know how to, or can't be bothered, the lazy fucktards. 'So' is the new 'basically', as far as I'm concerned and if it doesn't bother anybody else fine, or should I say cool.
Fuck me, I'm turning into a trendy slang cunt.
Nominated by Dai O'Rhea