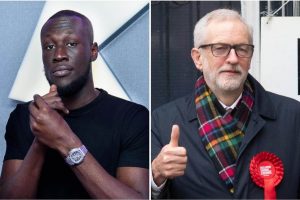 An election night cunting for the cunt Stormzy, who has revealed that he has never voted, as he urged his fans to get involved in the General Election.
Speaking in an 'impassioned' video to his 2.7 million Instagram cunt followers, he said:
"I know a lot of people are saying 'Go vote', and it can seem like just bullshit, but hear me out. Man's never voted. Man's always looked at politicians and thought, 'You guys are fucking everything up.' Man don't trust you lot. You lot don't do nothing for man and my community and my circumstance and my mum's circumstance. But for the first time in my 26 years of life, there's a man that man trusts. And I wouldn't do all of this; I wouldn't use my platform, my voice to say that to you guys if I didn't wholeheartedly."
He added: "It's very clear as day; personally, for me it's very clear-cut. Jeremy Corbyn is a man of hope, a man of justice, a man of equality, and the other guy's a fucking prick, so don't be stupid."
Well, he's a cunt for being a rapper, a cunt for supporting Jezbollah and an epic cunt for referring to himself as 'Man'
Did I mention that he's a cunt?
Nominated by Mystic Maven