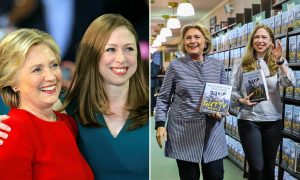 A Platinum Stars and Stripes cunting for Hillary Gob-Shite Clinton, for the nth time (How many times do you need to be cunted before you get the message!!)
She's been here with 'Chels' peddling some cheap tat about 'Gutsy Women' that she's scrawled (perhaps not realising that gutsy has another connotation in British-english, one more apt for our American cousins) and has taken the opportunity to have a pop about Brexit and spout about how the press are being 'racist' to Meghan and how she wants to 'hug her'.
Well, I say fuck you, Hillary. We voted for Brexit (you remember what a vote is, you lost one to a giant oompa-lumpa not so long back – yes, you couldn't even beat a wigged fuckwit who governs via the magic of Twotter) and our politicians are fucking it up enough without a fat-mouthed spam chipping in, so mind your own business. On the subject of Meghan, I would suggest that if she doesn't like what's happened to her, she too should shut the fuck up for a while and stop being such a hypocrite. As my old dead Dad told me when I was a mere youth; 'If you act like a cunt, son, expect people to call you one.'
So in essence, Hillary, please fuck off back to good ol' US of A and leave us 'Briddish' to sort it out ourselves. Nature abhors a vacuum so why are you still here?
Nominated by The Stained Gusset