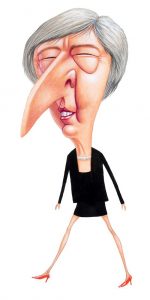 Another emergency cunting for that lying shitebag Treesa May. Easily a shoe-in for COTC.
I have just seen the news (15th Nov., 13h45), and was sickened to see the douchebag's smug, gurning face as she stood waffling in the Commons. The dozy bitch may well think she's won the battle, but she has lost the war and, moreover, I hope and believe that something of thermonuclear proportions is heading her way (a giga-ton kick in the cunt ??)…
Eventually, I could stand no more. We switched over to Berlaymont, where the genetically-compromised Polish dwarf was being equally as smug. I switched off the magic rectangle, as my piss was steaming so badly that plaster was coming off the ceiling.
Nominated by HBelindaHubbard