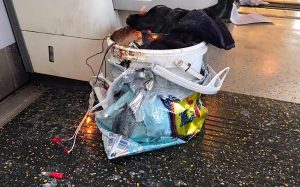 Congratulations – if that is the right word in the circumstances – to Kravdarth who correctly predicted the next terror attack would be in London as our peaceful friends set off a bucket bomb at Parsons Green on the District Line earlier today.
So the slate is wiped clean and we move to round 2 of "Spot the Jihadi" with one guess per person please in the comments under this post.
As a side bet, what will Sadiq Khan say first about this latest atrocity? Will it be :
(a) "Not all muslims are terrorists"
(b) "Islam is a peaceful religion".
(c) "Part of living in a big city".
(d) "Hate will not divide us and we will stand united"
Winners no doubt revealed during the inevitable vigil. Meanwhile our thoughts go out to the 22 people injured. If it had denotated properly, then it would have been a lot worse.