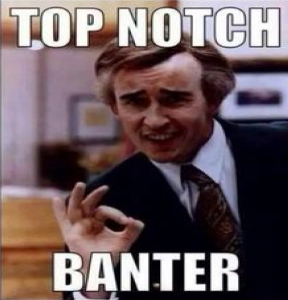 Having spent a torturous evening out with 'friends', I would like to deliver a cunting to middle-class 'lad banter'. So drained and driven to distraction am I by this fucking phenomenon tonight, I can't cunt with much strength – but fuck me, I've got to get this down before bed.
I'm sure there's a more succinct name for the phenomenon (apart from 'cunt' that is), but no, I'm not talking about hipsters or out-and-out geezers. Seeing a friend back from living abroad for a few years, it was good to catch up. Sadly he keeps many cunts for company. All asking each other if they want a "cheeky pint". Endless sage agreement terminating in "awww mate" in faux-mockney accents that only cunts from Berkshire, Cambridgeshire and Hertfordshire can manage. The sort of cunt who orders a Hungryhouse while exclusively watching the Dave channel, giving it the fucking pub philosopher pseudo-cuntishness, interspersed with artificial football knowledge derived almost exclusively from playing Championship fucking Manager.
One cunt in particular, wearing a hoodie – a cunt in his late 30s, for the love of cunt – with 'Punkers' emblazoned on it in the style of the Snickers logo would not stop saying "mate", "mate", "mate"… the fucking word is riniging in my ears right now like mildly-concerning tinnitus after a Megadeath set. Grinding my teeth and trying so hard to ignore the cunt, my only solace was the warm comfort in fantasising about burying a fire-axe deep into his subhuman skull; fondly imagining the spasms and involuntary eye-rolling as the cunt finally falls silent and slumps beside his last 'cheeky pint'.
There is a faint possibility of course that I am the real cunt and just hate most people in the world. But #ladsbanter is a monumental cunt and no mistake.
Nominated by The Empire Cunts Back