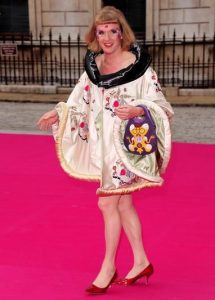 A huge cunting for " National Treasures".
As soon as someone is declared a " national treasure" then you can be sure that person is an utter cunt, viz –
Clare Balding – lezzer and cunt.
Eddie Redmayne – crap actor and cunt.
David Attenborough – global warming gobshite and cunt.
David Beckham – ponce and cunt.
Jamie Oliver – cunt food purveyor and cunt.
JK Rowling – illiterate cunt.
David Dimbleby – broadcaster and cunt
Kate Moss – skinny drug addict and cunt
Jo Brand – unfunny ugly cunt obsessed with her cunt
Miranda Hart – unfunny ugly cunt obsessed with her tits.
Allen Bennett – professional Yorkshireman and cunt.
Grayson Perry – cunt.
I rest my case.
Cunts.
Nominated by Marvellous Mechanical Cunting Machine