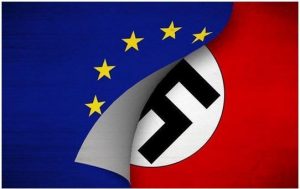 I would like to request an emergency cunting for the EU. The glorious Fourth Reich have got their shitty, star spangled eurodraws in a knot, because Pfizer and Astrazeneca have had production problems and will not be able to supply the agreed amounts of vaccine in the agreed timeframe.
Therefore, a diktat has been issued from the Fuhrerbunker, that all planned vaccine exports must be notified to ZE AUTHORITIES, AT ONCE !! So that appropriate steps can be taken. This is more problematic for Pfizer, as the Astrazeneca is mainly produced in the UK. But, the EU, Being right cheeky cunts, have said that there will be no problems with exporting the Astrazeneca product from the UK to the Fatherland. Which is more than can be said for everything else we try to export to them, since BRINO, they're wrapping everything up in red tape and petty officialdom.
Fuck off you eurotrash cunts.
I hope the Yellow Peril fucking ravages you, you sneaky protectionist cunts.
Get To Fuck.
https://news.sky.com/story/covid-19-boris-johnson-warns-eu-against-restrictions-on-coronavirus-vaccine-supplies-12199642
Nominated by: Jack The Cunter