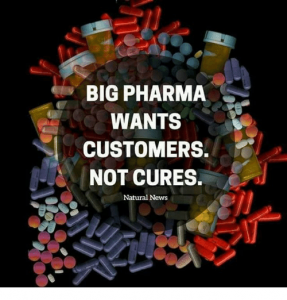 On the face of it, you'd think these were life saving organisations wouldn't you?
And for much of the time they probably are. However, they are also money grabbing, greedy fuckers who often have the medical profession by the throat.
Those climate change protesters who foresee the end of the human race in 50? 100? 400? years time don't think about a more imminent danger, which could wipe out mankind far sooner than that, cutting little Greta's lifespan down to a few more years. No, Greta, this is not scaremongering and supposition. This is actually a threat that's very real and based on actual evidence.
I'm talking about the emergence of superbugs which can cause infections that are resistant to antibiotics. Resistance is a global health disaster that is already killing 700,000 people a year and it is predicted to cause 10 million deaths per year by 2050. Some of the problem has been caused by overuse of antibiotics but this is where the Pharma companies come in. The last group of new antibiotics was discovered in 1962! This is because research is expensive and rather than spending money on this, the cunts would rather concentrate on money spinners.
People only take antibiotics for short periods. Nah, much better to pump out stuff where you've got them for life (and I take a few of those.) Blood pressure meds, diabetic drugs and statins (now given to people who don't even need them.) We'll build in some nasty side effects as well so you'll have to take another tablet to counter that!
We're now getting to the position where if you develop an infection after a simple operation, that might be the end of you. Even a cut at home or a scratch from a rose bush that Greta could get in her garden might signal the end. All very frightening, but real. So Greta, get your arse down to the Pharma HQ's to protest if you really want to do some good. "What do we want?" New antibiotics! "When do we want them." Now! Big Pharma companies are cunts.
PUBLIC ANNOUNCEMENT: If you've been affected by this public information broadcast, don't be alarmed. You've got at least two more years to live!
Sleep tight – Don't let the bugs bite!
Nominated by Bertie Blunt Ubercunt