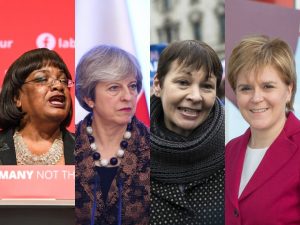 Wimmin In Politics…
'In politics', St Margaret of Grantham once observed, 'if you want anything said, ask a man. If you want anything done, ask a woman'.
It's a refrain we've heard many times in recent decades. Limit testosterone-fuelled, toxic masculinity in political life, and give more power and influence to the (so-called) gentler, nurturing sex. As a consequence,discourse will somehow become less confrontational, more amicable and co-operative, and then real progress will be made on the resolution of difficult issues. Recently, former US President Barack Obama has pursued this theme, stating that, 'Men seem to be having some problems these days. If every nation on Earth was run by women (sic) for two years, things would be better'.
It must be true of course. Just look at some of the wimmin who have so civilised the tone of political discourse in Britain in recent times. There's Shirley Williams, Bernadette Devlin, Olga Maitland, Margaret Beckett and Edwina Currie. Then there's Shirley Porter, Harriet Harperson, Virginia Bottomley, Teresa Gorman, Diane Abbott, Hazel Blears, the Baronesses Scotland and Uddin, Theresa Maybot, Caroline Lucas, Jo Swineson, Nicola 'Wee Jimmy Krankie' Sturgeon, Angela Soubry, Fiona Onasanya, Margaret Moran, Dawn Butler, Shabbi Chukkabutty, Rebecca Wrong-Daily and Emily Thornberry. How each one of these female paragons has enriched the life of the nation by their contribution.
Take a look across the pond to the US too. The situation is equally encouraging in that bastion of female empowerment. By way of evidence to support my thesis, I offer the examples of Shirley Huntley, Sarah Palin, Nancy Pelosi, Elizabeth Warren, Ilhan Omar, Michele 'Batshit Crazy' Bachmann, Christine 'I'm Not A Witch' O'Donnell, and of course, the gloriously embittered Hillary herself. You're really raising the tone up there on Capitol Hill, ladies.
As for elsewhere in the world, let's not forget the outstanding contributions made by the likes of Imelda Marcos, Jiang 'Madame Mao' Qing, Cristina Fernandez de Kirchner, Winnie Mandela, Indira Gandhi, Isabel dos Santos, Elena Ceausescu, Eva Peron. Yes, there's no doubt about it. The march of feminism in the last hundred years has allowed wimmin to come forward and truly express themselves in politics, and haven't all our lives been so much better for their moderating and constructive influence? Or… or… could it just possibly be that given the opportunity, wimmin have shown themselves to be every bit as as malign, egotistical, vicious, arrogant, vain, incompetent and venal as men? They've given, and continue to give, a demonstration of behavioural traits that radical feminists are quick to label as 'problematic' when displayed by mere males.
Well,'problematic', oestrogen-fuelled, toxic femininity is what I call it.
Nominated by Ron Knee