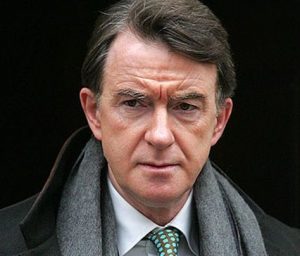 Peter Mandelson is a major fucking cunt. The serial resigner from the New Labour front bench popped up on TV over the weekend, urging everyone to "rise up" against Brexit – and, with a Spiveyesque flourish, to solicit donations to Blair's 'Open Britain' (ie anti-Brexit) campaign. Apart from the cunt's sneering, supercilious rejection of the result of a democratic referendum, what fucks me off is the way the media routinely refers to him as some kind of genius political strategist. It's worth remembering that although New Labour may have won three general elections in a row, during this period the Labour vote actually decreased from 13.5 million to 8.6 million – which is hardly evidence of any kind of strategic genius. Yes, Corbyn is a monumental cunt too, but one thing (perhaps the ONLY thing?) that can be said in Corbyn's favour is that he was never a fan of the EU and therefore readily accepted the referendum result, being one of the only Labour politicians to call for the early triggering of Article 50. And now we have has-been cunts like Mandelson taking time off from schmoozing Russian oligarchs to openly boast on TV that he is actively trying to undermine Corbyn primarily due to Corbyn's stance on Brexit.
Mandelson has always looked like a shifty, creepy cunt with a closet full of skeletons and deeply unpleasant secrets. If that guy from the Antiques Roadshow (Eric Knowles?) had a brother who was a serial killer of young boys, he would look exactly like Mandelson.
Nominated by Fred West.