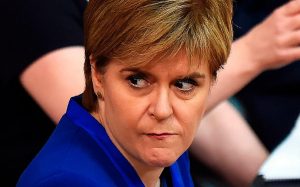 Away the noo, she's yearning for her ain folk – a kilt and bagpipes cunting please for the little lassie with her finger on the pulse, who is feeling "deeply depressed" at the prospect of a no deal Brexit:
https://www.aol.co.uk/news/2020/10/16/sturgeon-a-frustrated-and-depresseda-by-prospect-of-no-deal-b/
Old Jock feels we should devote 100% of our time to Covid19 (as the BBC already does – and much good does it do them). I am sure her sentiments are echoed by Dame Kweer, Dominic Grieve, and the queer peers Mandy and Adonis, but the majority of us want to leave – HOW we leave, whether it is on Canadian, Australian or South Norwood terms is neither here nor there. It is clear Motherfucker Barnier never had or has any intention of a constructive "deal".
The likes of surrender monkey Sturgeon have no doubt been hoping that Covid would scupper Brexit, hopefully Boris keeps his nerve and proves them wrong. If Sturgeon finds this too painful, perhaps she should have a chat with the McSamaritans.
Nominated by: W. C. Boggs