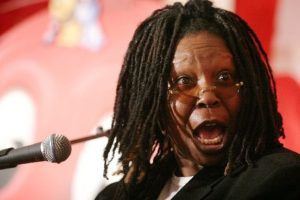 "Whoopi Goldberg demands apology from Royal Family for slavery"
Yes, this immensely talented and versatile actress has brought her considerable intellect to bear on the slave trade. A few hundred years ago.
Leaving aside the fact that, but for the slave trade:
a) She would be wallowing in an African shithole in poverty and probably dead by now.
b) It was her ancestors that supplied the slaves in the first place.
c) Slavery still exists in the land of her forebears.
What fucking difference does an apology make other than to inflate this stupid cunt's ego and self importance?
And where the fuck did she get a Jewish name from?
She should stick to shite films and whatever the fuck her talk show does instead of trying to out virtue the appalling Oprah Winfrey.
Nominated by: Cuntstable Cuntbubble