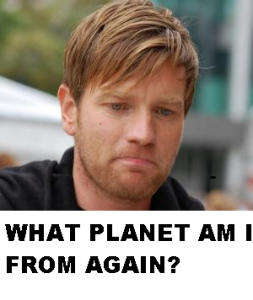 Ewan McGregor is a cunt.
That utter luvvie twat and woke licker, Ewan McGregor is all outraged and indignant at some black bird from the new Obi Wan Kenobi series getting alleged racist abuse on social media.
Like the useless penalty missing England players after Euro 2021, it depends how many messages there actually were and where they were actually from (they weren't from England). But – like the MSM with the Euro 2021 'racism' – McGregcunt has forgotten to mention how many there are or who was actually doing it.
Naturally, he will want to blame white English (or English speaking) people and make a huge fuss about nothing.
Also, did McGregcunt say a word when Gina Carano was hounded out of her job and shat on by Lucasfilm/Disney for daring to speak her mind? No, the luvvie fucker never batted an eyelid.
Thing is, the lovely Gina isn't black, you see. And nobody gave a toss because -according to woke zealots like McGregcunt – only black lives and black Star Wars actors matter.
Nominated by: Norman