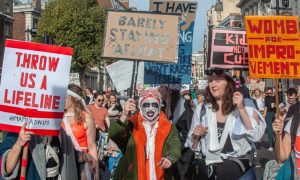 Grabby Cunts.
Why the fuck do parents think that other people should pay to raise their children? Free schools,free healthcare,free meals,child benefits and yet here there are whinging on for even more subsidised childcare and parental leave.
The fucking nerve of the Cunts… "We want our choices back" they chanted…well here's a choice you've still got…if you can't afford them,don't have them. I only wish I had the choice of opting out of paying tax to subsidise their choices.
I've a fucking good mind to start wailing that "the Govt." should pay for my Hounds and pay me to look after them.
They should be told to gather up their mewling brats and Fuck Off.
Nominated by: Foxchaser-Fiddler
mystic maven wants to add this to the mix
The march of the mummies. Not a horror film, although some of them could be suitably cast in one.
This took place on 29th October and they are basically demanding Government reform on childcare, parental leave and flexible working.
They all demand this, that and the other, as if the world owes them something. Well fuck off, if you can't afford them, don't have them.