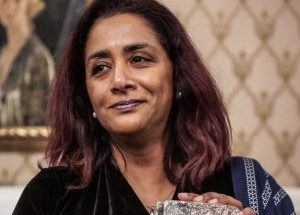 I wish to bring to the attention of the denizens of the award-winning website ISAC a self-cunting by 'Professor' Sunny Singh (no, me neither).
Apparently there is some sort of pathetic spat going on at the Society of Authors – a 'trade union' (as if) for writers – whose membership sounds like a rollcall of previous nominations on this august forum…
Back in 2020, Singh, when refusing to take part in a debate, was responsible for this word salad that even the recently recunted Guardian would be embarrassed by…
"I get regular invites to debate on various platforms. I always say no. Because debate is an imperialist capitalist white supremacist cis heteropatriarchal technique that transforms a potential exchange of knowledge into a tool of exclusion and oppression."
Readers will no doubt be astounded to learn that Singh is the daughter of a diplomat and attended a private university in the USA.
Nominated by: Emperor of East Anglia
(Surely by the fact this twat speaks colonialist English suggests she too is part of the "imperialist capitalist blah blah woof woof!!" Oh, and the fact she still lives in the UK despite finding it a place of all the bollocks quoted above – Day Admin)