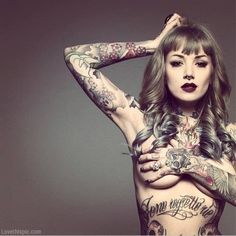 Women with tattoos! What the fuck do they think they are doing to themselves?
Don't get me wrong here, a small little discrete flower , fairy, unicorn or dolphin maybe on the ankle I don't have a problem with, a bit chavy perhaps but we all make mistakes. No, I'm talking big fucking ugly full sleeve jobs, ones covering the entire chest or the very worst big ones on the thighs. I saw one with a big red indian head on one thigh and a dogs head on the other. Fucking gross! And she couldn't have been a day over 23. Big chief Pow-wow and fido are going to be with you for a very long time, you silly little cunt.
What are they trying to say? Tats are traditionally for bikers, convicts and sailors. People living on the fringes of society. Is that what these bimbos are trying to say? "Look at me, I'm an outlaw living on the edge" No you are not, you are just a silly little air headed cunt! I wouldn't touch one with a barge poll.
Nominated by: Skidmark Eggfart