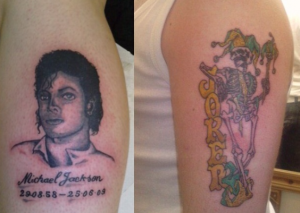 OK I know he's been done before but our old mate Chris Spivey deserves another cunting. Not for his normal mentally ill twaddle but for the quality of the work of the "registered tattoo artist".
Feast your eyes on the incredible masterworks
that Michaelangelo himself would I am sure marvel at. I particuarly like the fact that Michael Jackson's nose looks even worse than it did in real life!
Nominated by: Al Wayz-Right