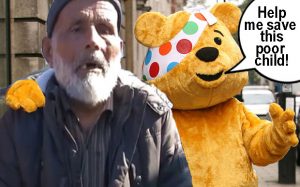 BBC Children in Need is just phase one of the charity barrage that signals the start of the Christmas onslaught in earnest. The chuggers are coming, and woe betide you if you tell them to bugger off!
And this year it will be even worse – because we have all those poor unaccompanied 'refugee children' like the one in the above picture lurking across the water in France. And we have to help them, don't we? Well, actually, no we don't.
Fuck 'em. Let them eat cake. Let them in and their families will miraculously appear to join them and bring even more extremist bomb makers to our shores.
Nominated by: Dioclese