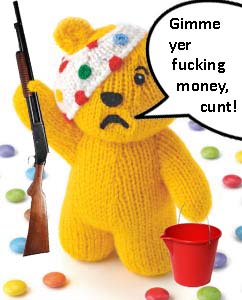 There's fuck all worth watching on tellie tonight because Pudsey is back…
Now, I know you are going to think that anyone who says that a charity appeal that raises so much for needy cheeldren should be taken off the air just because it's a load of purile, talentless shite is a fucking miserable bastard, but frankly I don't give a shit! Because that's exactly what it is.
As the late Captain Haddock so succinctly put it back in 2011 : "Pudsey .. the begging, one-eyed, parasite .. can fuck off." Nicely put Cap'n!
Nominated by: Dioclese