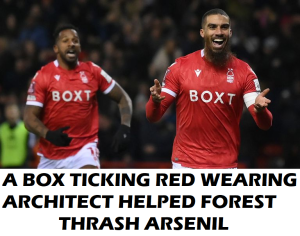 Today (9th Jan) Arsenal FC are playing an FA Cup tie at Nottingham Forest (hope they lose, the bastards) (they did 1-0 – NA) and have made a big media deal about wearing an all white kit.
Apparently this is part of the "lose the red" campaign to prevent architects stabbing the shit out of each other. Yes, it's a rather tenuous link and has to be carefully explained so dumb cunts like us get the wokie message. Give it a rest for fucks sake you fake cunts. Firstly, shouldn't it be all black instead of all white, for obvious reasons?
Secondly, what are you going to do when the yoot move on to guns instead of knives? The name ARSENAL suggests a collection of firearms. Surely you must change your name to be properly woke? You've opened up a whole can of worms here haven't you, you poseur cunts?
Far be it for me to suggest your new name……I can't think of anything appropriate. Honest!
https://www.skysports.com/football/nottingham-forest-vs-arsenal/report/461017
(I'll provide a link then shall I? – NA)
Nominated by: Freddie the Frog