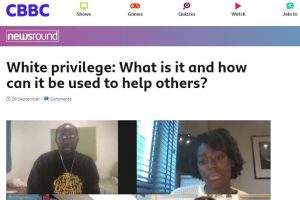 Are cunts this time for facilitating the indoctrination of young minds with racist propaganda.
Professional race baiter "Professor" Kehinde Andrews has been given a platform within BBC children's programme 'Newsround' to spout Critical Race Theory bollocks and White Privilege bullshit.
This sick ideology is presented by the BBC as fact.
Through its 'Newsround' service, the BBC is meant to be providing an educational resource – a resource that is likely to be regarded as authoritative by both children and schools.
It should at least aspire to enlighten young minds.
Instead it has decided to promote what is a highly contested idea. It has made no effort to present alternative views of race and racism – such as the universalist view that people should be viewed and treated as equals regardless of their race; or be judged by the content of their character and not by the colour of their skin.
The BBC has chosen to forego any attempt at impartiality, which under its charter it is legally obliged to do.
Earlier this month Andrews was invited onto 'Politics Live' to plug his new book 'The Psychosis of Whiteness'
WTF?
Martin Luther King must be spinning in his grave.
Nominated by Minge Juice Bottler.