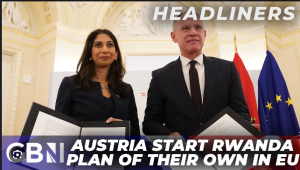 The Hills Are Alive With The Sound of Immigrants
Bitter/Sweet that the Austrians want to join in on the Rwanda Merry Go Round (not a song from the show) if ever it kicks off. Beautiful underpopulated country certainly but one of the knocks to it is that due to its location in Mitteleuropa (Central Europe – DA) on the border between East and West, tranches of immigrants have arrived regularly since the end of WWII. Despite wokedom being rife there they do not like it and in the land of the Sound of Music (it really looks like that) a black face stands out like a sore thumb.
Migrants can simply walk out of the forests and enter the towns and villages due to the Schengen Agreement – open borders – so beloved of the EU and the Austrian Left. Beloved once but oh not now. Our Romanian friends have seen to that and are the second largest (After Germany) immigrant population.
Austria is very white and wants to stay that way. It used to be a member of EFTA (European Free Trade Association) along with the UK but all that ended when we abandoned it and joined the EU.
In short they have a history of friendship and support with the UK (we make Aston Martins there) although moderated by their relationship with Germany which is not unlike UK's relationship with the US – Austria/UK takes it up the arse while Germany/US gives it. Also Austria supplied Germany with some of its fruitiest Nazis.
You never know and it depends on how much bribery money the EU wants to splash around to counteract it, but this could be the the start of the Rwanda Effect as other countries join in such as Denmark, Poland and Hungary and counting. A time bomb is ticking.
Nominated by: Jacobus