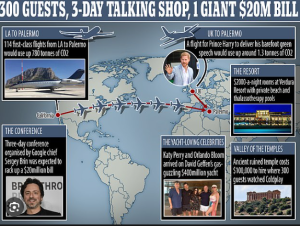 Prince Harry…….arch (geddit?) hypocrite and Total Cuckold
So, our ginger bollocked hero, constantly crying about the mythical "climate crisis" takes a private jet to Las Vegas to look as fucking miserable as usual while his slag wife shakes her arse to the tunes of Katy Perry.
It's 270 miles from LA to Vegas so I reckon I could have put up with sitting in the back of an air conditioned limo, even if I had to listen to that tart's constant whining.
Or I could have jumped on the Amtrak, not too difficult when you've got a limo waiting for you either end.
But why inconvenience yourself, that's for the little people not for the likes of the mega rich. Do as I say not as I do as usual.
I believe Katy Perry has a famous song called "I Kissed a Girl….and I Liked It". Watch out Harry boy!……old Sparkletits may be getting certain ideas and you may come to understand the meaning of the word "Spare." Know what I mean Brainbox?
Nominated by: Freddie the Frog
Supporting link provided by: Dickie Dribbler