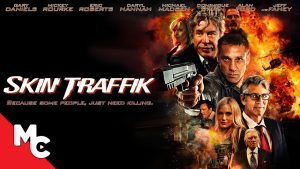 are a cunt,
I've posted a couple of times in the past about annoying, wearisome clichéd themes, scenes, and dialogue in films and on tv. You know the sort of stuff I mean; the frazzled cop who gets just 48 hours to crack the case, the 'none of this makes any sense' sort of line. There's been a lot of it over the years.
Well last night I was reminded of yet another variant, which might be termed the 'one man army' film. You know the drill; jaded, mysterious 'ex special ops' loner type is forced to confront a bunch of vicious criminals or fanatical terrorists.
I was looking at YouTube and a film called 'Skin Traffik' popped up. Although the premise was familar (weary loner takes on vile human traffickers), I was drawn in by the promise of what appeared to be a half-decent cast; martial arts veteran Gary Daniels in the lead, plus Michael Madsen, Daryl Hannah, Mickey Rourke, Eric Roberts and Jeff Fahey.
To be fair, the first half-hour or so exercised a bit of control and set the story up well. From then on however, things rapidly got out of hand. In true 'Equalizer', 'Commando' and 'John Wick'** style, our hero gets attacked by hordes of tooled-up goons who he proceeds to waste by stabbing, blasting and kicking to death, all while suffering barely a scratch himself.
By the time the hundredth baddy had had his head booted in, the whole thing had taken on such an air of surreal ridiculousness that I actually burst out laughing. It doesn't matter how well staged things are (and the combat scenes are well-staged here), the production always goes over the top to the point where even the most uncritical viewer can't contain his disbelief. Clichéd doesn't do it justice.
So there we go. I add the 'one man army' flick to the list of lazy and sloppy film tropes. The great 'Die Hard' laid down the template of course; pity that it's been mostly downhill since.
**current on-screen JW kill count approaching 450, would you believe.
Nominated by Ron Knee.