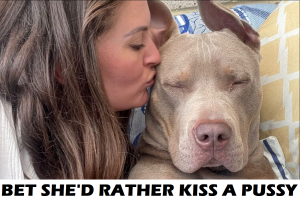 Seriously, what the fuck? It's known to be an aggressive breed – indeed, one of the most dangerous in the entirety of the UK – and let people in my little corner of Sheffield STILL let them roam off lead around children, the elderly and other vulnerable groups.
It would be one thing if it was a Labrador, but letting something which is effectively a Shitbull in all but name do that is extraordinarily irresponsible knowing the risks they pose. I know I have something of a reputation for not being a dog person but even so, that's taking the piss.
Nominated by OpinionatedCunt.
Then added to by none other than….OpinionatedCunt:
I would like to cunt the XL Bully – and the cunts who own/breed/defend it.
I'm sure we've all seen that horrifying video by now, but even absent what happened in Birmingham these odious mutts have been responsible for more than half of UK dog attacks since 2021. In addition to this, they have also been responsible for 6 out of 10 deaths according to the last full year figures. For all the idiotic guff about them being a 'gentle giant' and a 'family breed', the stats speak for themselves. And that's without going into the fact that they contain a large amount of DNA from the already banned American Pitbull Terrier, and have been known to turn even on professional dog walkers and trained handlers.
Much as some people like to pretend otherwise, there are times where, to a large extent, it IS the breed, and this is the case with the XL Bully. They have no place in a civilised society and are a grave threat to humans, other dogs and several other animals, and need to be banned immediately as a matter of priority with all existing specimens being subject to compulsory neutering and muzzling.