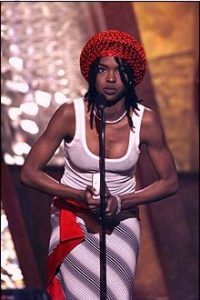 What a load of cunt.
All over the internet and the MSM, the 25th anniversary of 'The Miseducation of Lauryn Hill' is being gushed over and celebrated. Why, is the obvious response.
Well female and black answers that one. Naturally, the BBC and Grauniad are front runners, but even sites like Discogs are joining in the woke arse kissing.
For a start, it's nothing special. Hill was part of the Fugees. Three middle class pillocks playing at being 'refugees' and 'urban guerillas'. They are now known for a Roberta Flack cover. Hardly cutting edge stuff, that.
Hill put out a solo album. It came out and that was that. But now 25 years later, it's being lauded as some pioneering masterpiece, and – as is the BBC's wont – making out it's the first and only black artist to ever make a record. The amount of great black artists is considerable. Aretha Franklin, Nina Simone, Stevie Wonder, Lena Horne, Smokey Robinson, all the Motown greats, the Stax people. Where would Hill rate in a real list of such acts? But, according these cunts, Hill's album tops the lot. Another media twat compares Hill's 'impact' to that of Bob Marley and the Wailers. Ludicrous.
One of the more ludicrous sycophantic BBC statements is 'Hill brought Hip Hop to the mainstream'. Didn't Grandmaster Flash, Sugarhill Gang, Run DMC, Eric B and Rakim, Beastie Boys and even Malcolm McLaren do that years ago? If anything, Hip Hop's major MTV breakthrough was the team up between Run DMC and Aerosmith. These woke cunts just make things up to fit their views. No matter how untrue it is.
Loads of links for this, but I'll put the Discogs one on.
Nominated by Norman.