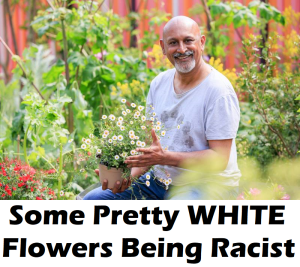 This twat is the RHS ambassador for diversity and inclusion, yes RHS thought it necessary to have one of those.
Anyway this twat claims that 'Classic English gardens made by "double-barrel-named" designers are putting non-white communities off the Chelsea Flower Show. So it's official then, gardens are racist.
This presumably means that an English garden designer must not create tropical gardens or persian walled gardens etc… as those are originally from other parts of the world (duh!! you don't say) so only ethnic garden designers should be allowed to create them.
The tiresome twat goes on to say "On the whole, it's always been white garden designers who've actually been featured here,"
He added that RHS Gardens are "beautiful English pretty country cottage gardens, or rose gardens, designed by double-barrel-named designers".
"How does that connect to somebody from my background? Or from an African background, or Mediterranean background? It doesn't."
Newsflash, no one gives a shit about whether it connects with you or not.
You either like a garden design or you don't, so stop your whingeing and disappear into your central water feature, cunt.
Nominated by : mystic maven