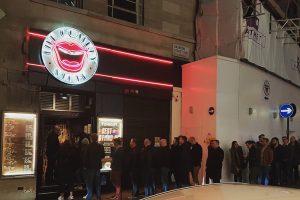 I happened to be in London today walking through Leicester Square, and as I walked past the Comedy Store there was a queue of all blicks waiting to go in. It looked peculiar, because there must have been 100 or so people and even in London (well that part of London) to see 100 people 100% blick is unusual. I got home this evening to see what they may have been queuing to see, and I came across this:
https://london.thecomedystore.co.uk/event/legends-of-comedy-london-show/
It reads:
Legends of Comedy is a special event bringing together some of the pioneers of UK Black Comedy. We bring legends from Television, Radio to Stand up comedy award winning comedians that have paved the way for African Caribbean comedians, actors and radio presenters today. Join us as we laugh and enjoy the best stand up comedy.
Now stuff like this really grips my shit. Having your own special show for blick comedians is NOT inclusive. This is a show at the expense of all other races excluded from it. You simply cannot continually claim the race card every five minutes, and then decide you want to put on a show exclusively showcasing blick people..with the USP of the show being EXACTLY that. Imagine if there was a show with the above advertising blurb, but instead of using the word blick, it said white?
Fuck me there would be uproar. You can bet your bollocks to a barn dance even if they were showcasing let's just say, 1960's uk comedians….the organisers would make fucking sure there were quite a number of non whites in there to keep up the quotas…even if there weren't many back in the 1960's. This has to be a two way thing, but it seems if you are blick you can be as subliminally racist and non inclusive as you fucking like, but don't want any non blicks doing the same.
Nominated by : Chuff Chugger