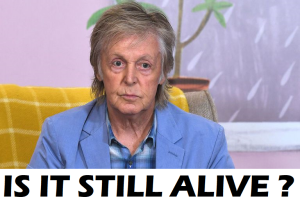 They say that rock 'n' roll will never die. But sometimes you think that it's time for some crock 'n' rollers to call it a day.
I see that The Who (or what's left of them) are on tour again. Now the band's a legend without doubt, but it's been a while since they were the voice of teenage angst. Daltry and Townshend have got 160 on the clock between them, and it's all starting to look and sound creaky. They should have called it a day when the legendary Entwhistle died.
Then you've got the likes of Macca and Dame Elton still out and about in 2023, both of whose voices sound shot to shit to me. Rod Stewart's knees and ankles have had it by all accounts, but he's still hurpling about on stage. It's a bit sad really. Saddest of all was the sight of Phil Collins on stage last year. He looked like an old and sick man.
https://www.youtube.com/watch?v=luFUSM9r9o0
Why do they do it? They can't need the money, so is it the buzz, or the need for status and admiration? Would you bet against The Stones going out on tour again, even though Mick and Keef look like a couple of rejects from 'The Lord of the Rings'?
Time to think about retiring gracefully lads, before it all becomes a bit demeaning.
Nominated by : Ron Knee
With an encore by General Cunster:
"All rock 'n' rollers over the age of 50 look stupid and should retire." -Grace Slick
I would like to second this nomination and provide this link in support:
https://rocknheavy.net/5-reasons-why-grace-slick-was-right-28f36bca8197
These bands were the iconic voices of a generation. I'd like to remember them as such and not as comic caricatures of themselves.