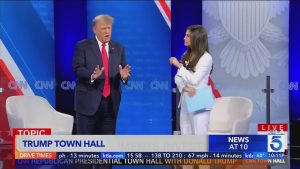 On American tv last night see link below, It's an hour long.
The way that TV new treats Trump is insane. I've never seen someone
treated this way by TV news people. She is almost screaming at him
at some points, the pitch of her voice is like that of a crazy girlfriend
losing her shit with her boyfriend. She tries to get "gotcha!" moments
by asking questions that bait a sound bite response.
"Do you want Ukraine or Russia to WIN the war?"
What? That is not an adult and professional question, it's something
a child would ask. Wars aren't "won" anymore, this isn't the times of
Napoleon.
But look at what happened. She came off badly and Trump came off
very well. We'll see what happens. 2024 will be a bloodbath of insanity
so enjoy the summer.
Nominated by Pull My Finger