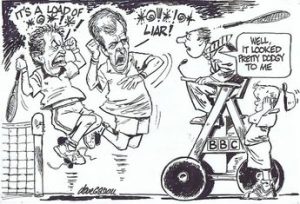 This absolute top class hypocrite cunt appeared on Newsnight the other day and went apeshit about his number one obsession……Brexit!
I didn't see it myself (why would I be interested in BBC propaganda?…….and I don't have a fucking telly anyway) but I watched it on YouTube. Fucking hell ……this a cunt who accuses Farage etc of lying through their teeth but forgets about his "sexed up dossier", justifying the illegal invasion of Iraq and the deaths of fuck knows how many people. Obviously I don't give a fuck about the A-Rabs but BRITISH fucking soldiers died over there in that shithole. Fuck you Campbell you pisshead arrogant cunt.
As usual I'm relying on my fellow cunters to supply a link because I don't know how to do that shit. Shouldn't need a link for this bastard but rules are rules I suppose. Unless you are rich and have posh connections……fucking rules don't apply then.
Nominated by Freddie the Frog.