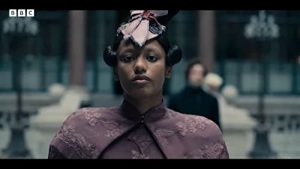 BBC's new version of Great Expectations.
Yes, yet another version of the story, but naturally being from the Beeb, it has gone woke so that it will supposedly appeal to today's younger audience.
The writer behind this shite is Stephen Knight, who created the Peaky fookin' Blinders.
The main character Pip is white, but Estella is black, as is Jaggers, the lawyer in London who guides him. You'd certainly see a black lawyer in 1840's London, complete with top hat and frock coat wouldn't you.
I don't know who plays Magwitch, but given that he apparently goes into a rant about the British empire and colonialism etc, it's bound to be a white actor, so that he can be portrayed as a self-flagellating white guilt ridden apologist.
Great Expectations? More like great expectorations. Fuck off BBC.
Nominated by mystic maven.