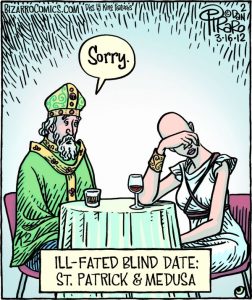 A cunting for the annual Mick-Fest known as St Patricks Day (17th March).
I don't wish to offend any cunters of Irish heritage. I rather like the Irish, have spent a number of wonderful holidays in their lovely country and admire their literature. They have, however, been total cunts over Brexit, but let's not harp on about that for the sake of amity. No, this cunting is for the obnoxious, fake horridness of the annual St Patrick's day celebration, loved by Plastic Paddy's in the USA more than it is by real Irishmen who just get drunk for the occasion.
Let's disect this myth of St Patrick. First of all he was not Irish. He was Romano-British, most likely born in Cumbria where his father was a senator and a tax collector. Secondly, he had no cause to love the Irish and did not travel their voluntarily. He was captured by Irish pirates at the age of 16 and probably received daily buggerings from them. Thirdly, as soon as he was able, he fled the Emerald Isle and returned to the relative sanity of late Roman Britain.The clearly PTSD suffering Patrick then heard "a voice from God", ordering him to return to Ireland to convert the heathen to christianity. In other words, he was suffering from Stockholm Syndrome and, after running away, found that he couldn't wait to get back to be abused.
Turning to the modern celebration of St Patrick's Day, from what I have seen in the USA it is an excuse for Americans of dubious Irish heritage not only to get drunk but to utter meaningless stereotypical Irish phrases ("begorrah, tis like the Old Country again, feel the craic, I'll have another pint of Guinness, curse the Black and Tans, etc."). They do this whilst dressed like something out of a Dr. Seuss book, in leprechaun outfits and silly great green hats, etc. Morons.
During St Patrick's day large areas in US cities like Boston and New York become an image of reckless intoxication, with rowdy college students crawling from bar to bar, where everyone is wearing that puce shade of green that proclaims their fake Irishness and public drunkenness, safe in the knowledge that law enforcement is colour blind in the USA (as it is here) and can only see in black and white, not puce green.
If I were Irish I would feel uncomfortable with the stereotypes on display here. And it's hypocritical – Irish emigres in the USA were despised until Kennedy made the Irish seem cool. Their reception and treatment was worse in the USA than in mainland Britain, where the Irish were accepted as close neighbours and practically kin.
So happy St Patrick's day – if you like dressing up as an emerald green leprechaun whilst getting blotto and urinating in public. A puce green pile of cunt practiced by cunts.
Nominated by MMCM.