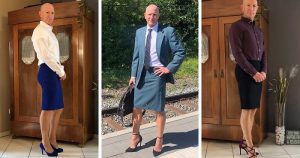 According to the Dudley Moore/Peter Cook film "Thirty Is A Dangerous Age, Cynthia". I would suggest you double that if this "Happily married Texan" is typical of what is happening to the Eddie Izzard transbumder types.
Just look at this ugly 63 year old wanker above:
He claims his wife is happy with his choice of clothing. I wonder if the wife is a man called Sue?
I can only reply that many men develop strange habits in middle age, but my advice to the wife is to put the lid on quickly – it will stop the sugar getting everywhere, if nothing else.
Nominated by W.C. Boggs.