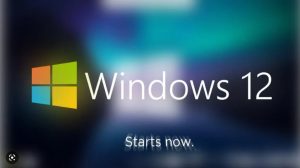 Rumours abound that W12 could be with us next year even though W11 is still relatively new in the public domain having only been available since late 2021. And even now W11 is still slow taking off, not least because of its fussy hardware requirements.
W12 is supposed to be very "AI-heavy" (Artificial Intelligence), although Microsoft hasn't gone into details as to what this actually means. And neither have they confirmed officially that there will even be a W12 rolled out any time soon.
However, it is known that they've been working closely with CPU manufacturers such as Intel and ARM, both of whom are producing the next generation of super 64-core and 128-core processors (a massive step up from the current quad and octa-cores) for the domestic market.
Inevitably this may mean that to upgrade to W12 you're going to need fairly top-end hardware. Either that or having to shell out yet again for another laptop or PC just to be able to run the same programmes you've used on W10 and 11 but on the latest W12 platform.
Or you could just stick with what you've got and wait until it goes out of support (W10 – October 2025. W11 – October 2031). This is probably the best option because if you do consider upgrading your machine you'll be facing the usual compatibility issues with apps that run perfectly fine on your current OS, but now won't run on W12.
Microsoft are no different from Apple – always trying to squeeze every pound and every penny out of mug punters for operating systems that really don't make much of a difference to ordinary people.
Nominated by: Technocunt