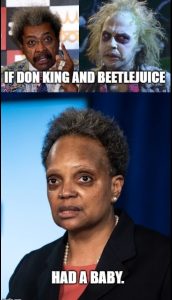 Oh dear , poor old wokie, weirdo black lezza Lori has had her arse kicked in the Mayoral election. Her share of the vote dropped from 75% to 17% thus becoming the first one term Chicago Mayor for 40 fucking years!
Nothing to do with her wokie policies of defunding the Police and allowing crime to spiral out of control while ordering the coppers to barricade the streets around her mansion. Oh no…..according to Lori it's all because of misogyny, racism and homophobia.
Of course it is dear…..now trot off to the loony bin and fuck off while you're doing it.
Arsehole!
Nominated by: Freddie the Frog