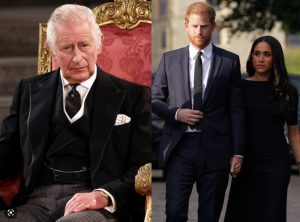 Our King is a useless cunt.
Even after Harry's vindictive and spiteful autobiography and his slut of a wife telling out and out lies about the royals being racist, the jug eared buffoon has apparently invited them to his coronation, despite strong misgivings from his son, William.
What do these two cunts have to do to be fucked off for good? Murder someone? And surely the Grudge Toting Man Baby and his trailer trash slag would be a security risk, because of Little Walt's remarks about the Taliban?
Charlie is as soft as steaming shite. How many last chances are they going to have? They are irredeemable scum, and they will continue their antics, stunts and bullshit because they know they can get away with it. On your own empty head be it, Charlie. They will use it as a stunt for their own gain, just like they always do…
Nominated by: Norman