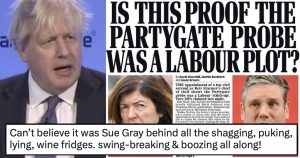 Yet another ugly old harridan in the mould of Thornberry and AnalEase (and they don't come much mouldier than that old pair of shockers), Sue Gray she of "Partygate" and former barmaid, is trying to hitch herself to the Starmer wagon of poofters, lezzers and trannies, and the hypocritical old pair of Mandy and Blair.
Starmer is such an opportunistic piece of slime – there is no belt below which he is prepared to punch, he is like a disease waiting to spread.
Gray herself is a hypocrite of the first order – a senior civil servant should be impartial, however, it turns out her son has lead an Irish Labour group and is likely to be parachuted into a safe Labour seat at the next election and one of her chief advisers in matters of law with Partygate turned out to be a potty judge of the Labour persuasion.
So much for this woman's "ethics". Yet another would-be hobby politician whoring herself to the highest bidder. Another willing arsehole to sit on Starmer's face – the biggest arsehole of the lot.
Nominated by W.C. Boggs.