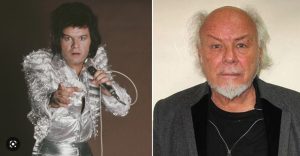 Paul Gadd, AKA Gary Glitter
This revolting piece of shit has been re-called to prison after serving half of a 16 year sentence. Apparently he broke his licence conditions by attempting to access the dark web using his phone. This cunt shows no remorse and remains a menace to children.
Nasty, arrogant, kiddy-fiddling cunt. Best thing that could happen to Glitter would be (slow) death by woodchipper, live on ITV, Saturday night at 9pm. Feet-first of course, stopping the machine a few times for 20 minutes, say at the level of Glitter's knees, bollocks and guts for comfort and tea/biscuit breaks.
Utterly evil cunt. On par with Brady and Hindley.
Nominated by: Paul Maskinback