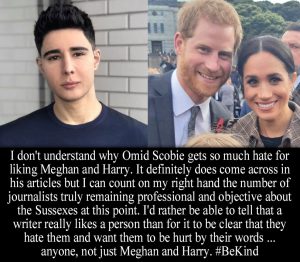 After due consideration, I've come to the conclusion that a cunting for Omid Scobie (aka Scooby Doo Scabies) is truly warranted.
Some of you may not be familiar with this tosser, so allow me to elucidate. Mr Scabies first came to general public attention when he co-authored 'Finding Freedom', the so-called story of the carry-on behind Megexit. Since then, he's been sniping regularly at the Royal Family in the media at the behest of his paymasters, the Dork and Dorkess of Monteshiteshow.
Now naturally those in the 'Sussex Squad' will claim that both sides brief against the other, and there is no doubt truth in this. However there's something particularly snidy and unpleasant, not to say creepy, about how the wax-faced Scooby Doo goes about the business. In his case, persistent brown-nosing of the Snarkles at the expense of the Royal Family is definitely not a good look.
Still, I suppose that acting as a mouthpiece for the Court of Monteshiteshow is a way of earning a living in his case, and no doubt he has to find some way of funding his penchant for cosmetic surgery.
Little bitch.
Nominated by: Ron Knee
And seconded by from General Cunster
If I may be allowed to support this most excellent and long overdue nomination of the Markle's pet bitch, Omid Scobie Doo.
Here's some support from the Libtard rag, Haper's Bizarre…Uh…I mean Harpers Bazaar…which features a particularly revolting example of little Omid's fetish with Prince Sparey and the Hollywood Harlot:
Cunters should be advised that the supporting video promo of the Dysfunctional Duo sometimes changes to an equally disgusting promo for "The Crown."
Nonetheless, members would be well advised to have their vomit/barf bags at the ready if they choose to view.
And further support from Komodo
Another link, which really excoriates Scobie.
"Nikolay Kalinin" appears to be a pro-Navalny Russian; can't find anything by him later than 2021 – hope he's ok.