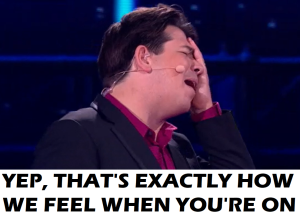 Michael Mcintyre is a cunt. I saw him on tv the other day, and was appalled at his generic vanilla stand up show. Nothing of any originality or pushing the boundaries.
The fucking wokes in the audience were fucking laughing on queue at his pathetic attempts. What particularly pisses me off is the way he always bangs on about his children and that people who don't have children have "no idea what it's like". Countless stand up pieces from him on the same fucking subjects. What a self obsessed ugly cunt on every level.
The fucking wokes who follow him to feel safe in their pathetic worlds need some lessons in real life and real comedy.
Nominated by : Cuntstable