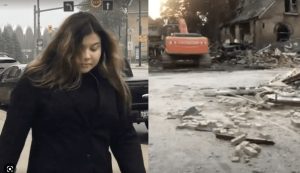 Daniella Leis from Ontario is attempting to sue a food and beverage company that served her alcohol, aiming to make them liable for the costs of damage which resulted when she drove into a house whilst pissed – allegedly.
This waste of breathable air is claiming that the bar in question should pay the estimated $9.87M – $14.7M in damages, all because she was too stupid to realise that intoxication and driving do not mix.
The company should counter-sue her parents for creating this pathetic specimen in the first place.
Nominated by: mystic maven