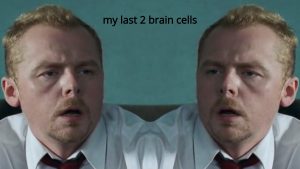 Oh dear me, here's yet another privately educated, multi millionaire lefty cunt demonstrating his moral superiority. This time it's Itchy Ballsack's suggestion that kids should continue Maths lessons until the age of 18 which has aroused the ire of Simon Pegg.
Now for what it's worth, I have no liking for Itchy or his Party, and I think his idea for maths is plain daft. But I don't show the whole world what a tit I am by putting out a pitiful rant like this. 'Fuck Sunak', 'Fuck the Tories'. Wow, what insight, what political nous, what a brilliant critique!
He tells us he didn't need maths to get where he is today. Spoken sitting in his car – designed and built using mathematics. Posted on the internet, created and operated using mathematics. And I imagine his accountants and tax advisers use a bit of mathematics to shelter his estimated £20 million from the tax man. How does this dickhead think the world works, by everyone sitting under a tree reading poetry?
What a complete and utter bellend.
Nominated by: Geordie Twatt