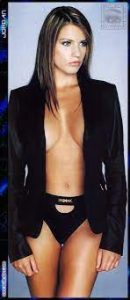 (Katie "Jordan" Price, back in the day – Day Admin)
Katey Price is a deluded cunt, can you think of absolutely anyone who could in the name of sanity would make a worse life coach than this crazy spunk trumpet.
Firstly i think anyone who needs the advise of a life coach already has problems, so i cant think of anyone who could possible help fuck up whats left of your pitiful, fucked up life than fucking Katy Price the paragon of good life choices, if you thought things were bad before just ask Katey and before you know it, your going to remember your old fucked up life as the good times before you got involved with this loon, while hiding from the rain in a cardboard box.
She is going to enrol on a course for £9.99 a month and then be in a position to advise people on improving their lives.
Here's a list of life improvements Katey can help you with.
Dealing with multiple kids,
Dealing with multiple fathers [absent or present, past or future]
D,N,A testing,to get child support
Divorce,1-5
Bankruptcy whilst keeping assets,
Plastic surgery abroad and in Uk at tax payers expense,
How to drive while under the influence ,
How to crash while under the influence,
Dealing with the courts, judges and the police,
How to fund millions of pounds worth of dodgy plastic surgery,
How to motivate yourself for more plastic surgery,
Dealing with latest wonky comedy tits,
Taste, house and car decoration.
This series is available as a 200 piece dvd box set £9.500+vat payable in 2 easy instalments, satisfaction is guaranteed or you can go fuck yourself in the knowledge you are funding her next boob,lip,snatch job.
Order today from www.rottencrotch.ru.org
Nominated by: Fuglyucker