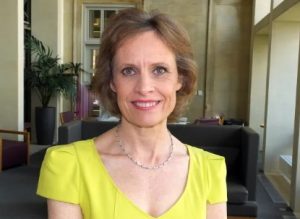 I would like to nominate Professor Susan Jebb of Oxford University and Chairwoman of the Food Standards Agency . The BBC News Website tells us peasants that this learned person wishes to see the end of the practice of people bringing cake to the workplace. It would appear that marking someone's birthday etc by passing around the odd slice of Battenburg is bordering on manslaughter.
The aspect of this stupidity which gets my goat is that I cannot imagine how such a deluded person could possibly rise to such a lofty position. Then again, perhaps I should now be so surprised.
As ever Admin, I'd like one of my fellow cunters to provide the link.
Nominated by: Guzziguy
And supported by: Ron Knee
My pleasure Guzzi.
Silly cow deserves a twatting for treating people like five year olds.
And there's more, this time from Cuntologist
Professor Susan Jebb
Probably the one and only cunting this silly trout will get but reports of her utterances annoyed me greatly. Jebb is Chair of the Food Standards Agency Uk.
She said bringing a cake or other sweet treats into the office is as bad as passive smoking. No, it isn't anything like passive smoking.
I don't even work in an office these days but remember when people would bring stuff in, usually for birthdays, Divali etc, and simply refused it if I didn't want any. Call me picky, but rarely was I tempted by a mass produced stale cake or greasy Samosa at 11.30am.
Professor Jebb goes onto say that she can't say no if someone appears with cake. Apparently because she can't say no, bringing in a cake is like smoking in the office in front of people. Oh just F off. Perhaps stick to the day job of ensuring food sold for consumption is safe.