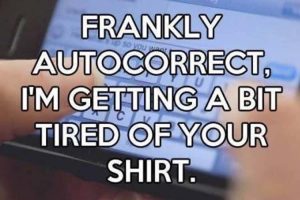 Auto Correct, sometimes known as Predictive Text.
Yes, we've all done it I'm sure. We've sent a text or email to someone or some site such as ISAC without proof-reading first. And yet it's only after you've submitted the message do you actually read what you've just sent, only to find a spulling mkesteke!
Inevitably we do a follow up post with the correct wording followed by a blame-game moan usually on the lines of "fucking phone", "fucking Apple/Android", "fucking predictive text!"
The thing is, 9 times out of 10 auto-correct is probably doing its job; its the user that just isn't paying enough attention prior to sending.
All the same auto-correct can be a pain at times especially if you haven't set the auto-correction dictionary to English (UK) rather than the default English (Yank).
The other thing of note regarding auto-correct is that it makes us very lazy when it comes to spelling and learning words now that we know AC will do the biz (although we still need to double-check)
Anyway, I will check this nomination prior to submission because I don't want any of you cunts to spot any errors, and neither do I want to blame auto-correct when there's actually no need.
Nominated by: Technocunt